MAY JESUS AND MARY ALWAYS BE PRAISED

St. Andrews Presbyterian/United Church Records B. M. D. Index, Williamstown, Ontario
Now Available on instant download
Any Comments, Contact Alex
Back to AFRR Books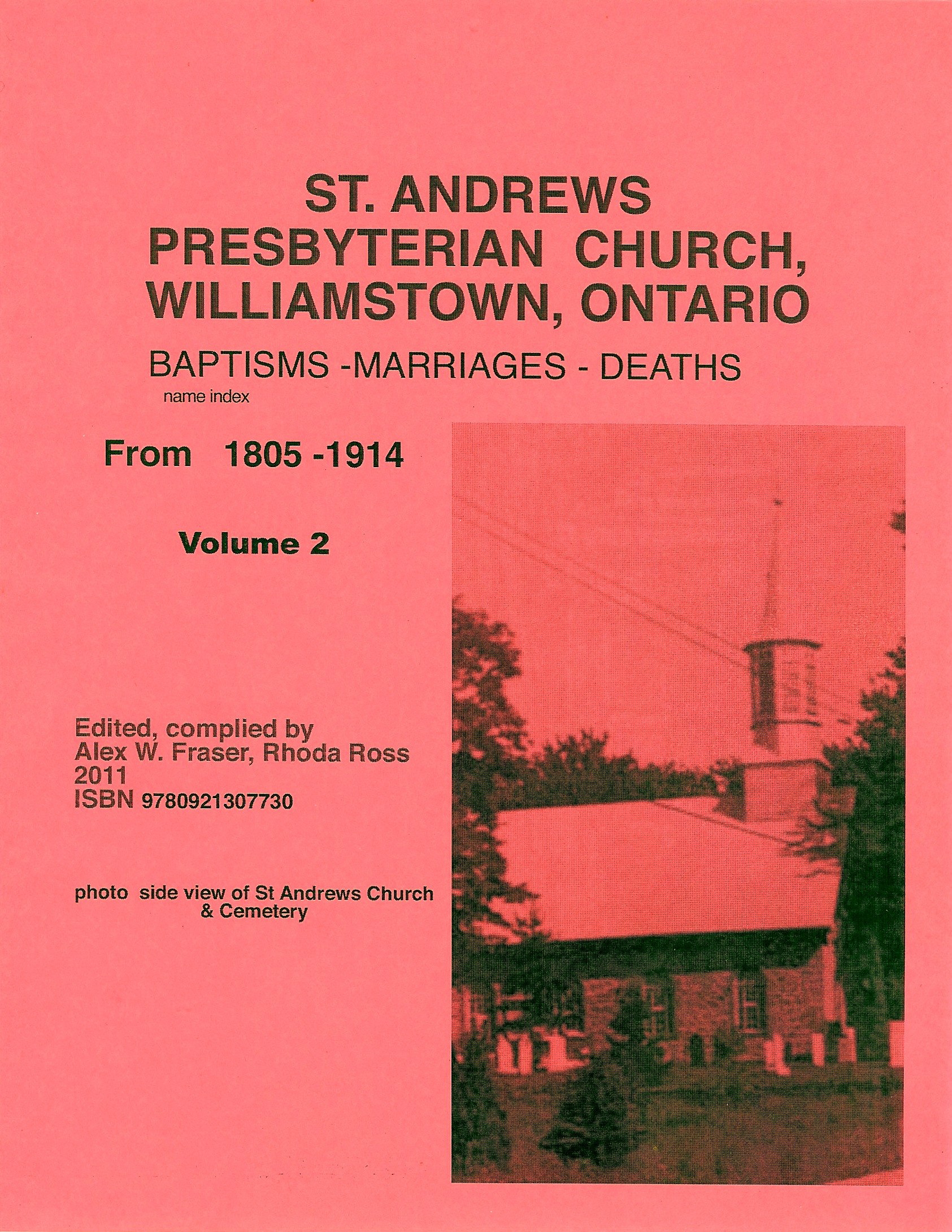 Cat # 2125
the 2nd volume of St Andrews Presbyterian BMD Williamstown name index for the years 1805 - 1914 inclusive
------ ISBN 978-0-921307-73-0 Now Available on instant download

containing about 5760 entries with over 140 additional footenotes referencing 19 different published books
under the following headings
Surname Christian Middle Father Mother Year Date Bapt date Spouse Location item Ref Notes

Not all categories have information as per this sample
Wright John 1810 Christian McRae Charlottenburg M25 SAWM mar'd Nov 27 1810
This is read as follows---
M25 1810 John Wright married Nov 27 1810 Christian McRae, he of Charlottenburg in St Andrews Presbyterian Church Williamstown SAWM

Wright Pauline David Wright Tamar Burrett 1807 Jan 8 Mar 15 1807 Cornwall B27 SAWM
This is read as follows---
Baptism 27 1807 Pauline Wright dau of David Wright & of Tamar Burrett born Jan 8 1807 baptised Mar 15 1807 from Cornwall Baptised St Andrews Presbyterian Church SAWM

The 19 books being referenced in the footenotes are

1001 Name Index of the descendants of John Cameron the wise, 1985 http://www.glengarrycounty.com/famhis.html scroll down to item
CHARLES EDGAR 1772 - 1856, Lancaster Township, Glengarry County and His Descendants 1772 - 1998 [in part], http://www.glengarrycounty.com/cedgar.html
Cote St George Presbyterian BMD & Cemetery 1991 http://www.glengarrycounty.com/csgeorge.html
"SOME DESCENDANTS OF DUNCAN MCKAY OF LOT 14 - 6TH LANCASTER TOWNSHIP, 1757 - 1995." http://www.glengarrycounty.com/dmckaytoc.htm
Fr Johns Diary of Deaths 1819-1866 & 1839 Census in part 1992 http://www.glengarrycounty.com/frjohn.html
Gravestones of Glengarry Vol.1 Williamstown 1976 http://www.glengarrycounty.com/gofg.html scroll down to item
Gravestones of Glengarry Vol.2 South Lancaster to Bainsville 1987 http://www.glengarrycounty.com/gofg.html scroll down to item
Gravestones of Glengarry Vol. 8 Dalhousie Glennevis http://www.glengarrycounty.com/gofg.html scroll down to item
Knox BMD Lancaster, 1881-1977 http://www.glengarrycounty.com/4glenchubmd.html
Lochaber Emigrants To Glengarry 1994 http://www.dundurn.com/books/lochaber_emigrants_glengarry
MacLeods of Glengarry 1793 - 1993 http://thereview.ca/page/review-boutique scroll down to item.
McNaughtons of Glengarry 2008 1600 pages http://mcnaughtonsofglengarry.blogspot.com/
My [AWF] MacDonalds of Loup, Lundie, Fraser Line & Connections version 3 2011 http://www.glengarrycounty.com/loupv3index.html
Reids Loyalists in Ontario 1973
Descendants of Thomas Taylor Ross http://www.glengarrycounty.com/ttross.html
Ross of Martintown http://www.glengarrycounty.com/rossmart.html#rosom
St Andrews 2nd concession BMD 1833-1978 http://www.glengarrycounty.com/4glenchubmd.html
St Andrews South Lancaster BMD 1884-1978 http://www.glengarrycounty.com/4glenchubmd.html
Salem BMD Summerstown, 1884-1977 http://www.glengarrycounty.com/4glenchubmd.html
Also inclued are some Glengarry BMD references for the year 1817 from St Gabriel's BMD Montreal
Any Comments, or interested in this title, Reserve your copy, Contact
Alex W Fraser

#2125 Dec 2011 St Andrews BMD name index 1805-1914 -- ISBN 978-0-921307-73-0,-- cerlox/comb bound, -- 8.5 X 11, -- softcover, -- over 200 pages
$49.00 + $14.50 P&H for total of $63.50 Canadian funds.
US funds $69.50 postage included [exchange & extra postage makes up the difference]

Cat # 5125 A pdf copy on CD $45.00 Canadian Funds ISBN 9780921307754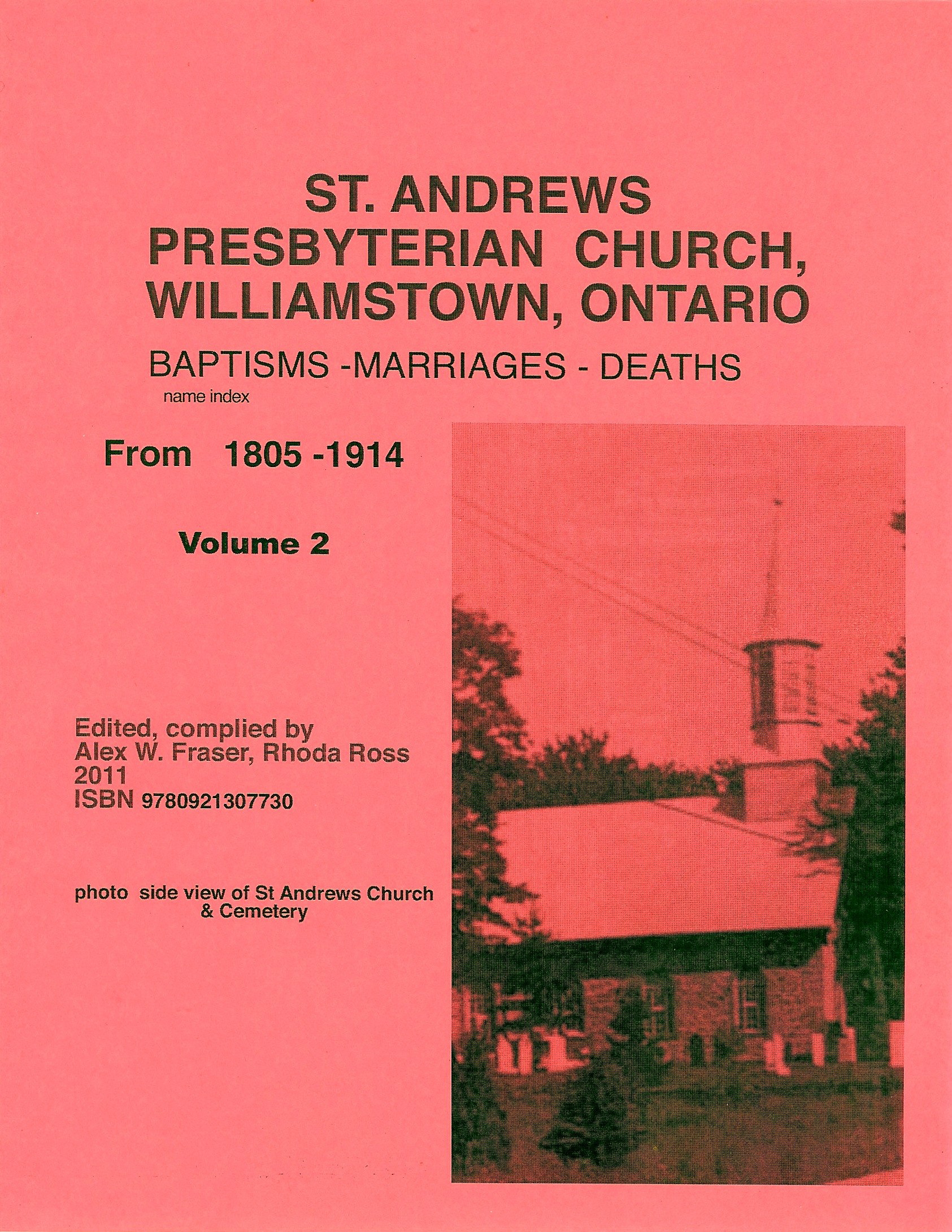 Cat # 2125
A complimentary Copy, St Andrews BMD name index 1805-1914, is being provided to St. Andrews United Church, Williamstown, Ontario, by end Jan 2012 c/o The Minister Rev Andrea Harrison
see Also Gravestones of Glengarry Volume 1 Williamstown
Back to AFRR Books
The 1st volume was for the years 1779 - 1804 see below
---
Cat # 2059
St. Andrews Presbyterian/United Church Records B. M. D. 1779 - 1804, Vol.1
Williamstown, Ontario with name index ISBN 0-921307-74-8, CIP, softcover cerlox bound, published, April 1999. about 390 pages. Rev. John Bethune records, Williamstown, ON Also Now vol 1 available as a download
This work reproduces the Church records of St. Andrews Presbyterian Church, now United, situated in Williamstown, Ontario for the period 1779 - 1804 for baptisms, marriages and some deaths. The listing are in chronological order, Baptisms, Marriages, Deaths when listed, by year. We have, also, cross checked this work with the original handwritten records on microfilm.
Their is an extensive Name index which has numerous references to other sources. A few of these references are in part. William D. Reid's Loyalists in Ontario; Gravestones of Glengarry Volume 1 and 2, the Duncan McKay 1756 -1810 of 6th Lancaster Township family history. There are about 700 footenotes to additionals sources.
Sample of the BMD-- Baptism
B116 MARY MCPHIE
MARY MCPHIE, DAUGHTER OF ANDREW MCPHIE, AN IMMIGRANT LIVING ABOVE POINTE CLAIRE AND OF ANNA MACMILLAN HIS WIFE, WAS BORN ON THE 17TH DECEMBER 1802 AND BAPTISED ON THE 10TH FEBRUARY 1803.
Sample of the BMD-- index
SNYDER, David(579) Lancaster B3-1794 Jan 5 born ?
son of Jeremiah
son of Katharine Snyder
579 refers to footenote #579
This reads: David Synder B3 1794 baptised Jan 5, date of birth not listed & son of Jeremiah & Katharine Snyder of Lancaster township.
Cat # 2059 Price $55.00 + $14.50 S&H Total $69.50 Canadian Funds Postage & Handling included when shipped to a Canadian Address
When shipped to a USA Address Price $55.00 + $22.00 S&H Total $77.00 Canadian Funds Postage & Handling included
The actual postage charges for shipping St Andrews V1 to the USA is $22.15
For ordering details Contact Alex
Cat # 5059 A pdf copy on CD $45.00 Canadian Funds
A complimentary hard Copy has been provided to St. Andrews United Church, Williamstown, Ontario , April 1999 c/o The Minister Rev Andrea Harrison
---

Our titles in most cases are always available for those interested individuals who desire to purchase a copy & support our efforts. Thanks for this act of Kindness. AWF
---
May Jesus and Mary Always Be Praised

Any Comments, Contact Alex
Back to AFRR Books
---
Bi-tron; Never pay for Fuel Again Get paid to use this product.

---
Page Created Jan 6.99,
Updated 6/12
---
View My Stats